MISSION
We are not just a think tank, we are a policy bank, filled with research and data on best practices to produce better outcomes.  We are a resource to decision makers and policy leaders who desire to make the most positive, meaningful impact in Florida.
The Florida Policy Project is a not-for-profit organization committed to advancing evidence-based policies and practices to improve the lives of Floridians. Our mission is to conduct rigorous research and provide education to policymakers and the public on critical issues facing Florida, including but not limited to criminal justice reform, property insurance, transportation, and housing.
Through our research and outreach efforts, we aim to drive informed decision-making and foster a culture of collaboration among stakeholders in Florida's public policy arena. Our work is grounded in academic rigor and integrity. We strive to engage with diverse perspectives and communities to ensure our research and advocacy efforts are focused on best practices to achieve better outcomes. The Florida Policy Project is supported by individuals, foundations, and corporations and does not accept government funds or contributions that could influence the outcomes of its research.
The overarching mission of FPP is to positively influence the quality of life for Florida residents and guests.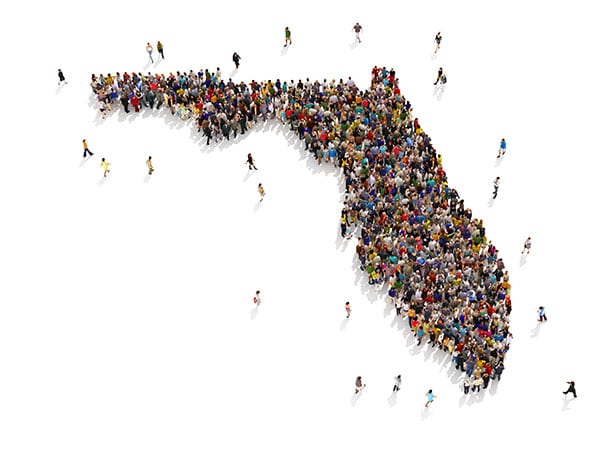 Florida is currently the third most populous state, behind California and Texas.Florida's GDP over $1 trillion dollars – 17th largest economy in the world (2018).
Results of the 2020 Census  showed that Florida had 14.6% population increase over last decade. The 2020 Census indicated that Florida had 21,5 million permanent residents. The population aged 65 and over is forecast to represent 24.3% of the total population in 2030, compared with 20.5% in 2020 and 17.3% in 2010. 
Prime working age (25-54) is expected to represent only 35.8% by 2030. As a result of both net migration and natural increase, Florida is forecast to grow by over 5.6 million persons between 2010 and 2030. 
Florida is now the third most populous state and by 2030, 26 million Floridians will call Florida home; 1.62 million net new jobs will be needed to accommodate expected population growth (Florida Chamber 2030 Blueprint).
---
By submitting this form, you are consenting to receive marketing emails from: . You can revoke your consent to receive emails at any time by using the SafeUnsubscribe® link, found at the bottom of every email.
Emails are serviced by Constant Contact